In order to achieve competitive advantage, business must continually strive to innovate.  Innovation, coupled with improved operational effectiveness and efficiency can exploit and leverage information technology that results in greater business value and potentially market share.  In order to overcome the famous "open door, closed minded" policies that wreak havoc on thriving businesses, innovation must be understood, recognized and encouraged.
With so much focus on current operations, it's often difficult to change mindset towards the future.  This is where a having a formal process to manage innovation is key.
Enter COBIT.
Most IT and business professionals think of COBIT as a framework to assist in the security, control, and assurance of processes.  The usual suspects include processes such as change, configuration, incident, security, and so on.  If you look further in the framework, you may be surprised to find a process in the Align, Plan & Organize (APO) domain called APO04, Manage Innovation.  This hidden gem, if used correctly, can provide a formal means of viewing the future of the business through a much more powerful lens – one that looks beyond the short term and encourages value creation through the qualification and staging of the most appropriate technology advances, methods and solutions.
Quoting directly from the COBIT5 Process Reference Guide (available on the ISACA website, www.isaca.org), the purpose of APO04, Manage Information is to "Maintain an awareness of information technology and related service trends, identify innovation opportunities, and plan how to benefit from innovation in relation to business needs. Analyze what opportunities for business innovation or improvement can be created by emerging technologies, services or IT-enabled business innovation, as well as through existing established technologies and by business and IT process innovation. Influence strategic planning and enterprise architecture decisions."
If you are familiar with the process guide in COBIT5, you know that each process is described with a rich mix of information including: description and purpose, process goals and metrics, IT related goals and metrics, and management practices.  Management practices consist of activities, RACI charts, and inputs/outputs.  Although the goal of this is not to walk you through all of the details of the process, it's important that we take a look at the management practices of APO04.  These include:
APO04.01. Create an environment conducive to innovation.
APO04.02. Maintain an understanding of the enterprise environment.
APO04.03. Monitor and scan the technology environment.
APO04.04. Assess the potential of emerging technologies and innovation ideas.
APO04.05. Recommend appropriate further initiatives.
APO04.06. Monitor the implementation and use of innovation.
So what's the business value?  If you look in COBIT5, A Business Framework for the Governance and Management of Enterprise IT, you'll find the goals cascade (see below).  If you walk through the goals cascade, you will find that APO04 eventually supports multiple IT-Related Goals, Enterprise Goals, and Stakeholder Needs.  Although this is only one way to identify business value, it's a great start.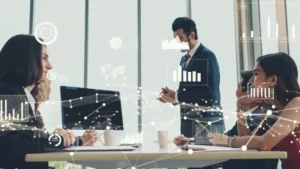 Reference:  COBIT5, Goals Cascade Overview, Page 18.                                                                                                                                                                             So, if you're struggling with how to formally recognize innovation efforts in your IT organization, start with COBIT, you might find more than you expected.  It is important to remember that COBIT is not a standard!  It is a framework, and therefore designed with the flexibility that allows you to adjust processes and activities to meet your needs.  In any case, don't forget that the ultimate goal is to provide value for your customers, not just in the short term, but the long term as well.  This is precisely why you should consider this process.